CRISP & TASTY
All Natural & Gluten Free.
Made with fresh quality tomatoes, Savory Spice, Hint of Sweet Maple & Smoky Whiskey for a unique and delicious taste experience.
Learn More
READY TO PARTY WITH THE PIG?
TWO FORMATS TO ENJOY: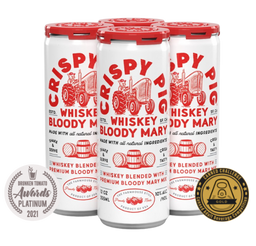 Crispy Pig 8 pack cans
10% ALC/VOL
Crispy Pig 3.5L Party Pack
10% ALC/VOL
Contains TWO 1.75L Pouches, 18 Servings, Sealed for Freshness

CUSTOMER REVIEWS
An all-natural blend of premium Bloody Mary mix and whiskey, Crispy Pig is gluten-free, vegan-friendly, goes down smooth with delightful smokey notes, and is guaranteed to be the king of your next backyard BBQ, tailgate, or brunch.
Rich red color. Aromas of ground peppercorns and rich tomato with a thick, crisp, dryish full body and a peppery, interesting, medium-long smoked brown sugar, lemon-pepper, and soy-glazed onion finish. A thick, tangy, slightly smoky and well-balanced Bloody Mary that won't let you down; garnish away!
The Ultimate at home brunch beverage. Trust me, it tastes better when you don't have to play bartender yourself. Leave it up to the professionals, my friends